Book Review: "Storyline 2.0" by Donald Miller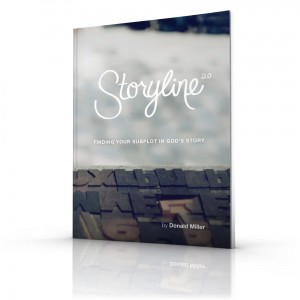 I recently read "Love Does" by Bob Goff (review) and he mentions Don Miller several times in his book. I looked up his books and found "Storyline 2.0" which sounded right up my alley. I got it and it comes w/ the audio version. I listened to the audio version right away and finished it the day the physical book arrived. 🙂
It's more of a workbook/system/website (mysubplot.com) for organizing your roles (e.g., husband). From there, you determine you ambitions, inciting incidents, anticipated conflicts and climactic scenes.
It's a great system that takes into consideration all the things I think they should (prayerfully consider things, be reasonable, it sd be motived in selfless helping of others but also not denying that you have God-given wants and desires). But, as with most, you get out of it what you put into it. It's not going to do it for you.
It would be easy to phone it in and put the trite ambitions and easy, non-intimidating inciting incidents and really not get much done. So it's up to you. But if there's something you want out of life, this can be a great system to help.

You can see my profile on the site at http://mysubplot.com/user/bearc0025. After reading "Love Does" I was motivated to change a goal… ambition of mine from writing my life story (I've been meaning to do it for years and years like Bob mentions: write down everything I can remember). Not only is that a daunting task but who really wants to read about a grocery store visit I remember when I was 6?
I started thinking of the 'big ticket items' from my life (somewhat like the timeline in Storyline) and my many failures. I've got a lot of them. So that is a big role/ambition I have now.
I think the "Storyline 2.0" system has a great basis for setting up your timeline, theme and growing into your roles and more. It's better than just a "goal setting" framework especially with the specific steps and reasons for having them. Viewing conflict as a valuable thing is a great perspective!
I look forward to my climactic scenes! What a great motivator! I've done that type of thing in the past, but formalizing it and keeping it alive (maybe it will change, maybe it won't be how I imagine and that too is valuable) helps relieve me of the 'pressure' side of it and keeps the dream alive! 🙂