Starting Aquaponics – Starter Kits, Aquariums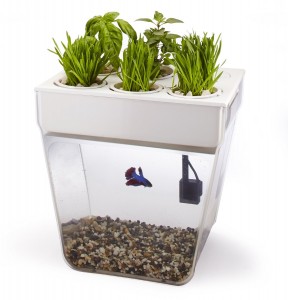 I posted the other day about a good aquaponics starter kit for starting aquaponics. I wanted to mention a couple more either for people wanting to start a bit bigger or level up.
The Back to Roots AquaFarm v2 is a good starter kit. Here's a couple larger options…
Starting Aquaponics
The ECO-Cycle Aquaponics Kit is a good mid-sized kit that still works well in-doors…
ECO-Cycle Home Aquaponics Kit w Dual T5 HO Grow Light

Aquaponics: The science of raising vegetables and fish in a closed re-circulating system.

Fish waste provides nutrients to the plants & plants provide clean water for the fish.

Grow delicious leafy greens while enjoying an aquarium at home or in the office.

If using in a classroom setting, email admin@ecolifeconservation.org for STEM K-12 curriculum.
More details:
The ECO-Cycle Aquaponics Kit is a one of a kind 'plug and play' system that allows you to easily experiment, learn and grow with aquaponics in your home, classroom, or any small setting. The ECO-Cycle retrofit system turns any standard 20 gallon aquarium, or any aquarium with a 12″ x 24″ footprint, into a productive garden (aquarium not included). Included in the kit: ECO-Cycle Aquaponics (1) Grow tray (1) Grow tray pot-holder (1) Grow tray filter cover (1) Grow tray door (1) Pre-filter sponge (1) Bio-filter brick (13) Net pots (2) Liters of expanded clay pellets (1) 1/2″ Fill fitting (1) 3/4″ Drain fitting (1) Micro-JetTM water pump (1) 12″ Pump hose (1) Built-in 7 watt bright LED tank light (1) LED 12v power supply (1) Double 24″ high-output T5 fluorescent grow light fixture (1) Adjustable grow light hanging assembly ECO-Cycle Assembly Link https://www.youtube.com/watch?v=GFs9rRz4mwk&feature=youtu.be
That would be a great kit for starting aquaponics. However, if you want to go a bit bigger, here's another kit. It's a bit nicer looking especially for an office or similar.
Either way, if you're starting aquaponics, here's another good option…
Another larger (and more expensive) option is the Good Ideas AQUA-OBL Aspen Aqua Grow.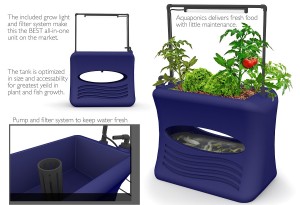 Details…
Dive into aquaponic gardening with the aspen AquaGrow Aquaponics system. This custom molded one-piece system contains everything you need to grow vegetables, fruits, herbs or flowers and house 5-7 ornamental or edible fish. Its sleek modern design is available in 5 colors and compliments your home, office or school. Comes with a starter kit, pump and filter system and all you need to get started growing low maintenance fresh food making this the best all-in-one unit on the market. The tank is optimized in size and accessibility for greatest yield in plant and fish growth. Aquaponic gardening has never been easier with the aspen AquaGrow Aquaponic system. Starter kit includes: aspen AquaGrow system, 60l of expanded clay grow media, powdered soluble seaweed, 8oz Nite-Out ii nitrifying bacteria, 4oz D-Klor natural water conditioner, medium buffer bag (mesh bag of ground seashells), instruction manual, 1 year limited warranty on parts and service (see instruction manual for complete warranty information).