What Infects in New York, Stays in New York
I wrote this in an email to a friend and thought I'd share it. I told him earlier in the email how I loathe the spelling out of letter phonetically – why enlongate an abbreviation?
So then I spelled them out for the rest of the email like NYC becomes "En Why See"… it's fun!
So the bad week we had last week…
I had a teaching gig at Spotify (name drop) in En Why See last week and the family decided to tag along. We landed on Sunday and walked around En Why See – not completely around the whole island of Manhattan but almost.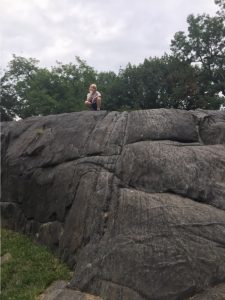 I lost perspective and got very goal-oriented about "seeing" everything. We blew through various sites in Central Park in order to "see" more/others.
I felt terrible later… and during… b/c of the heat… and for losing my perspective but I was telling myself they'll thank me later for it. Ha!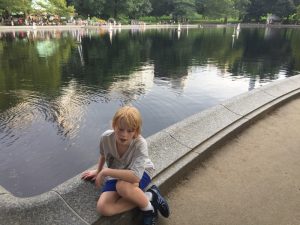 Anywho, Monday I worked and Mo took the boys to the Natural History Museum. That was Tristan's 11th bday. We went out that night to the Lego store and to the Top of the Rock.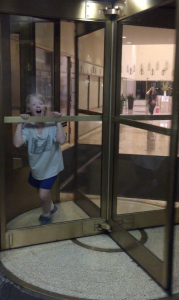 Tuesday they went to the Empire State Building and that night was Spongebob (T loves him) the musical on Broadway. But T wasn't feeling well. During the musical, I took him to the bathroom but nothing happened. Then we just sat on the stairs for a while. I took him back to the room at intermission.
To make a long story short… not possible… it goes on…
He fell asleep when we got back and I researched appendicitis symptoms and he was close but no fever. I kept feeling his face and it was fine.
When Mo and Mitch got back, we went to get T up to prep for bed and his body was a different story: super hot and sweaty. Mo took him to the Eee Are – which was an ordeal. Have you ever tried to figure out where an Eee Are is in En Why See at night?
I thought I found one around the corner but it was… who knows but fortunately the lady behind the counter at the hotel was like "Nope, that's a cleaners or something." We found one and Mo and T got a Lyft to it.
Around midnight she said the doctor said they'd be there at least a few more hours for tests. Mitch and I went to sleep. Around 2 or 3 Ay Em Mo said "Bingo, appendicitis" – apparently T's appendix loved En Why See so much it wanted to stay.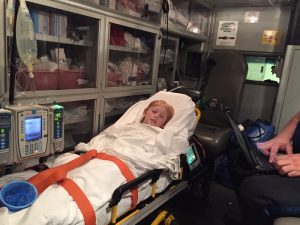 I got up early so I could bring them clothes and such. I packed up some toys and things for them and walked to the Eee Are about a mile away. I left a trail of sweat so I'd know how to get back.
I asked for the Pediatrics dept and got a confused response. "We don't have one." Mo had told me they were moved to pediatrics. I didn't realize it was 65 blocks away… and 4 avenues over (in En Why See that's meaningful).
They went by ambulance. Check that off the bucket list!
I took a deep breath of cold air and got a Lyft. Needless to say the traffic was like Manhattan on a workday morning. I got there around 8:30… my teaching started at 9:30… plenty of time, right. New York minutes are short.
T was asleep and Mo was just going to "bed" (fold out chair). I dropped off the stuff and left again. He was going to have surgery later that day.
I got a Lyft at 8:45 Aay Em with "plenty" of time. I literally had to just go straight down 7th Avenue 65 blocks again back the other way again. I was late. Also, while waiting for the Lyft, I caused a small flood of sweat on Park Ave.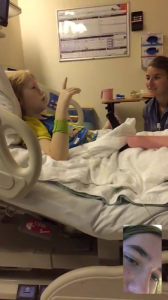 He had surgery later that afternoon and it went well. I got text updates and all was smooth. We have pics. It appears to have a face according to the 65-year-old Philippine surgeon. It's smiling. I think it was coerced.
But God was good – the Eee Are had this sister hospital so that helped. Also it was the only hospital in En Why See w/ a pediatric surgeon and the staff was awesome! Lennox Hill is the name in case you're ever taking your kid to En Why See for an appendicitis.
He woke up later, demanded a hug from all nurses and proceeded to charm the pants off anyone w/in 30 meters while he had an Eye Vee stand named "Karen" (re: Spongebob).
They gave him a new design of children's hospital gown and after surgery asked if he would model it for pictures for… not sure. Website? Flyer? Hospital fashion store catalog???
They included momma in some of the pics too. They said they'd mail some so hopefully I can update this later.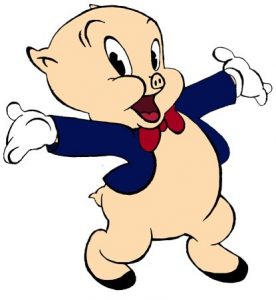 When changing clothes, he "Porky Pigged" it for the staff for a bit. So I guess he charmed his own pants off too.
Unfortunately he's not a gassy kid so he counldn't prove his digestive system kicked back in and he counldn't eat… until the next day! Poor kid. Mo got him a Sprite (apparently NY hospitals can't give Sprite to patients anymore b/c… humans are dumb and love to make rules) and he finally released from his cracken.
He ate and did well and was released that night at 8 Pee Em. They Lyfted back to the hotel and we spent a couple days in the room (I still taught) trying to keep T to a "normal kid" speed.
Later that day he told me how "lucky" he got in En Why See: got a new Lego set (2 actually), a spongey ambulance ("free" souvenir from the hospital w/ every surgery, I believe), saw half a musical on broadway… and a "free" pillow from the hospital.
Also, on the drive home after the flight (which is a-whole-nother story), he said he wished we'd stayed 2 weeks.
On the next episode of En Why See adventures, I'll tell you about how I got trapped in an elevator, got a bagel stolen, vowed "As God as my witness I'll never be hot again", bullied a bully on Top of the Rock, lost our boarding passes w/in 5 minutes of getting them at La Guardia (and how the lady pushing T's wheelchair handled it… poorly), couldn't figure out how to close a window, went up the same flight of stairs twice only to find out they stop half way up the building, was denied riding a mechanical bull (b/c it was Sunday), bought 5 ice cream cones in one afternoon (not for 5 people), how "preboarding" for us turned into me boarding last… and tweeting angrily to AA (and love for SWA) and their responses.