Starter Guitar for Kids: First Act Review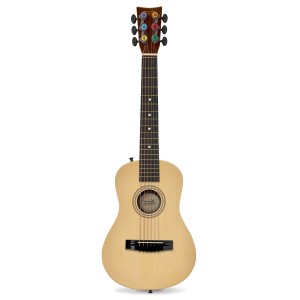 Starter Guitar
If you're looking for a starter guitar for your child, I recommend the First Act Guitar. It's a great size and a great price.
I would say it's a great size for the youngest players up to about 12. However, I can play it just fine too so it's more than a starter guitar. 🙂
It comes with some extra strings, chord cards and sticker for the string notes. Also, ours came w/ some oversized picks which are great for smaller hands.
It has pegs for a guitar strap if you want to go that route.
For the price, I think it's a great starter guitar that will take a kid pretty far.
Beyond all these reasons, there's something special about having your own guitar. For a kid, it adds excitement but also makes it feel real to have your own. Making music fun is the best way to get kids excited and having your own starter guitar is a huge step in that direction!
From the Amazon listing…
Tunable acoustic guitar designed especially for kids

Great tone, comfort and playability

Thin frets & low string action for easy playing

Patented string post covers protect little fingers

Exclusive Learn-A-Chord cards and string post stickers to get kids playing right away
Also, I'd recommend a Snark tuner until they can do without it (but why would you) to keep it in tune without the challenges. It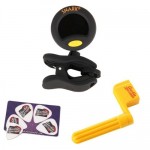 will sound better which is good for everyone and less frustrating/intimidating… which is also good for everyone!