Programmable Timer Light Switch Review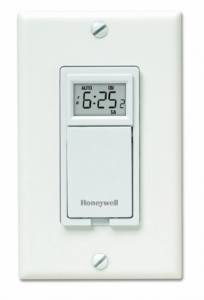 I recently got the Honeywell 7-Day Programmable Timer and it's doing a great job. The programming is simple but gives you some good options.
You can set a variety of timers – up to 7 so there's one for each day. Or you can set a timer to be all days of the week.
Of course you can just tap it to turn the light on and off too.
It's easy to install, program and use so I'm happy. You do need a neutral wire (white) in your switch box for switches like this since they actually have some electricity in them for the controls. I'm pretty sure any type of light switch like this needs that so it's not a special case for this one.
Honeywell 7-Day Programmable Timer Manual PDF
If you want one that figures out sunset/sunrise and such, you might want the Honeywell Econoswitch RPLS740B 7-Day Solar Time Table Programmable Switch for Lights and Motors. That seemed like overkill to me for now. However, I'm open to that and if I get that one, I can move my other one to another switch.