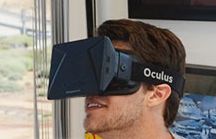 As an iOS developer with some game development, I was eager to get an Oculus Rift Dev kit. It came in Wednesday!
I've been checking out demos and such since then and really excited to see what people are doing. It's still early, but there's some fun and varied stuff out there.
It comes w/ a 4-month trial for Unity Pro. I've only used Unity (free), but I'm familiar w/ it and could convert my current games to 3D.
My son tried it and love it and my wife flipped out. 🙂