OC Burger – Denton – First Visit Thoughts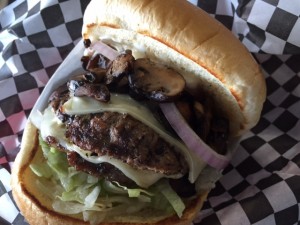 I love me some burgers. If a restaurant has 'burger' in the name, I'm up for it.
UPDATE: More pics at the bottom
OC Burger opened in Denton last week so we had to check it out. The location might not be the best but I will say my favorites are not on the beaten path (remember RJ's?).
OC Burgers – Denton
The place is nice and clean. It's walk-up ordering but they brought the order out to us. Have a couple of beers on tap – I had the "not Coors." For whatever reason it was "free beer" day at OC. Danny (who helped us) didn't say why and I didn't ask. 🙂
I ordered the mushroom swiss burger and my wife ordered the patty melt. Both were done well (and fairly well done). We also ordered the OC fries which comes w/ OC sauce. OC sauce was described as a bit of a sweet 1,000 island which sounded good to us.
The fries also have cheese and grilled onions on them. When they came out, they looked somewhat bland, but I really liked them. They weren't too heavy or dense. I like them in all forms and this was a somewhat lighter version.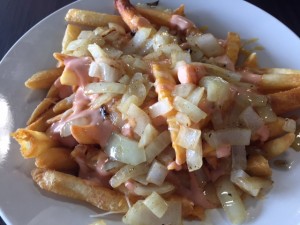 They reminded me of Cinncinati-style chili.
OC stands for Orange County – ask Danny for details.
I often say about burgers that it's mostly a set recipe. You can get weird w/ it, but often I think that's "cheating." But for the most part, a burger is a simple animal. Just don't mess it up. There's a few things that will matter to people like the type of lettuce, bun, etc. Other than that, you don't have to pick sides too much.
OC nailed this. What we ordered had a simple, descriptive name and we got just what we expected. The bun is a great vehicle – in this case it was slightly toasted. Nice touch. The construction what right up my alley: shredded lettuce, few onions – focused on the meat and, in this case, swiss and grilled mushrooms.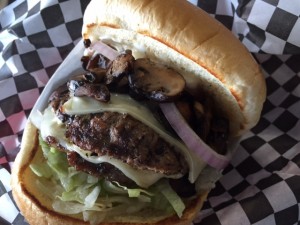 It's not flame grilled so it has a diner/drive-in type taste. I usually call this an "Old Fashion" style burger patty – thinner and usually 2 patties.
The patty melt was just what you'd want. Great toast, perfectly buttered and toasted but juicy interior passengers practically smiling right back at you.
All in all, it was a great experience.
They have breakfast, other sandwiches and more that I want to try over time. This visit ensured that we'll be back.
New pics (I assume they don't have their beer/wine license b/c they give it away)…