Netgear Router – Cable Modem and Wifi Router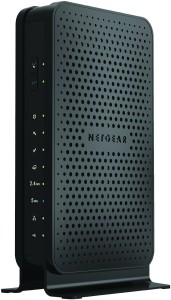 My cable modem went out this weekend and I got a Netgear cable modem with wifi router and it's a big upgrade for a good price. Also, it's easy to setup! I can recommend this Netgear router.
Netgear Router
My old Motorola Surfboard went out. I just woke up one morning to a flashing 'receive' light. I tested various things and determined it was either the signal from the street or my modem. While I waited (a few days) for the tech to come out, I thought I'd at least try a new modem.
I got the Netgear N600 because it had good reviews, a good price and good features. Honestly, I mostly assume that anything new is going to have something good enough for me. I'm not trying to run a media server for the world out of my house.
But I wanted it to be the latest in tech so that it works for the longest time. It was a good price and a name brand… there were no red flags or reasons not to get it.
The instructions for this Netgear router were basically like something form IKEA meaning it was not much to read. I pretty much hooked it up and it worked. The hardest part was registering with my provider. The instructions has steps for that also! Even specifically for my carrier.
The admin pages for this Netgear router are well laid out, clear and provide with a 'basic' route (easy stuff) and 'advanced.' Also, there's an app that lets you do most of the same things.
This is nice because it gives you the option to basically just hook it up and be on your way. But also, you can dig deep and configure everything you want.
It also uses OpenDNS for parental controls. Again, the experience for the user is good because if you don't have an account with OpenDNS, it allows you to signup right there.
I had a Linksys the last several years and it was fine. Their experience for the user might be much better now. I hope so (not that it was bad), but this Netgear router is a great experience.
It also provides the means to hookup a USB drive to the router as a shared drive for files or media. Similarly, the app (if you have a PC), hooks into the media server and allows you to navigate to images and music.
What I'm trying to get at is that I believe this Netgear router is a good product for a good price. And that it also provides a nice simple experience to setup the router for basic use but also allows the user to get to advanced settings and features.
From the description…
2-in-1 WiFi router and DOCSIS 3.0 cable modem provides a high-speed cable Internet connection

Built in DOCSIS 3.0 modem – 8 times faster than DOCSIS 2.0 – up to 340 Mbps

N600 (300 Mbps + 300 Mbps)

Compatible with U.S. Cable Internet Providers like Cablevision, Charter, Comcast XFINITY, Cox, Time Warner Cable, and more

Cost-effective – Eliminate monthly rental fees