Guitar Equipment Essentials
Since starting my lessons with Jamplay.com, (posts) I've purchased a few essential items that I thought I'd write about below…
Guitar Equipment: Picks
I've tried several and landed on a couple that I like the most:

Herco picks – I like how they are like regular picks, but let you finger pick also. Plus, picks then to turn in my hand so these stay straight.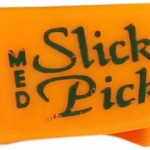 Fred Kelly Slick Picks – these are a bit smaller so I can get closer to the strings. I've even filed some down to really tighten it up. Other Fred Kelly picks are good too, but these have been my favorite.
Guitar Equipment: Tuner (and winder)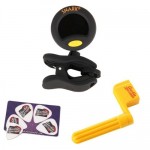 Snark Tuner – this is a MUST have. This removes all intimidation of tuning. I never would have though I'd be so quick to go to alternate tunings, but this makes it a breeze! And it comes w/ a winder which makes changing strings a lot easier and faster.
I'm often tempted to buy several more of these to just leave one on each guitar I have. They are so convenient and I'm going to get spoiled fast and like it!
Capo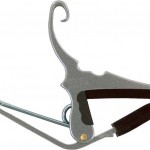 Kyser 6-String Capo – easy choice. Where were these 20 years ago? This capo is strong, but easy to put on and take of quickly.
Slide
Fender Steel Slide – I've only tried a couple of slides, but I like this one. It's a bit longer than my pinky, but it makes covering all the strings easier. Also, I got used to it fast so there's no sensation that it's going to fall off. I don't like the enclosed glass bottles b/c a) it's glass (can break) and b) they don't ventilate. Also, I like the smooth slides more than any textured ones.