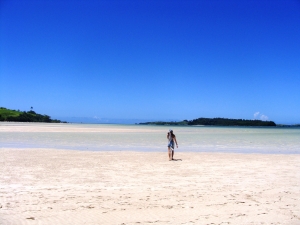 I've had a variety of friends go solo/freelance over the years or even just do work "on the side." It's not easy. Getting the work is one thing and probably the main thing, but there's more to it. Leaving behind a safety net comes w/ a lot of work and being proactive and preemptive is key.
So I thought I'd put together some posts about "goin' solo" w/ some tips that I've learned… often the hard way.
The first one I'll do is on email… coming soon.
BTW, I chose that picture NOT b/c "goin' solo" means you live the luxury life of being on the beach or working from the beach, but b/c you're alone in the ocean and it's scary a lot of the time. 🙂