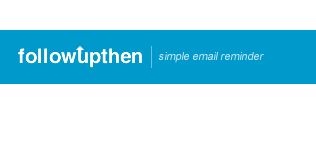 "Free & Easy Email Reminder
Clear out your inbox. Shorten your to-do list. Never forget to followup. All with a simple email address: tomorrow@followupthen.com"
Bottom Line:
Send/forward email to 1hour@followupthen.com or 2days@followupthen.com or <whatever time length>@followupthen.com and it will be sent back to you in that time. Try sending an email to 5seconds@followupthen.com to try it. No need to create an account.
Details:
I love this service – I can forward emails to 2weeks@followupthen.com (or whatever time) and delete/file the email to get it out of my inbox. It's one of my current favorite finds.
There's no account creation (unless you want to for advanced features).
There are other options like pending@followupthen.com to see what you have waiting, every1pm for daily reminders, everywed6pm for weekly, etc. Check them out here.