Best Flip-Flops Review/Recommendation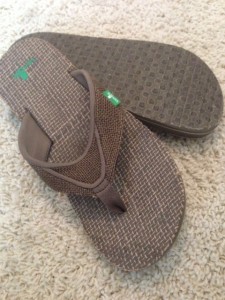 These Sanuks feel like walking on yoga mats… b/c YOU ARE!
"Footbed made from real yoga mat with natural jute inlay"
I'm not sure why they are called 'beer cozy' flip-flops, but they are "now brewed with extra hops in your step!"
Backstory (blah blah)
I love flip-flops which is weird b/c all growing up, I was no good at wearing them. Then a few years ago I got a pair at a random shop in Florida and fell in love. They got wet months later and didn't recover well. Since then I've searched for good replacements.
My back is ok, but wearing most shoes wears me out… see what I did there?
Requirements
Unfortunately, I'm picky – I want them to look casual and feel comfortable. I tend to wear them for several months or even (much) longer so I don't mind paying for something that will last. And I want them to be not too dark or otherwise retain heat. That's lame.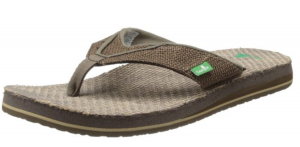 Now I have these Sanuk (Beer Cozy) Double Jutes and dig them!
Super comfortable, light and even a little arch support. Also, they're not too dark and the material sdn't retain heat.