Shakeology Homemade Substitute – Meal Replacement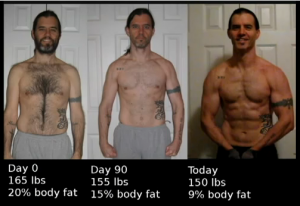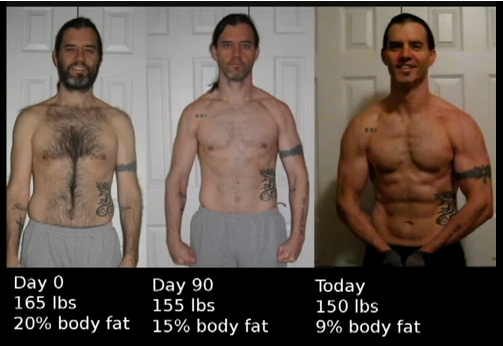 I used Shakeology as a meal replacement for a couple years (P90X, Insanity, P90X3, etc.) and really liked it a lot. I liked the convenience, taste and knowing I was getting a lot of really healthy stuff in one good shake but $$$.
What I do now costs about $100-$150 (depending on the option items plus Whey protein) but lasts over 2 months (that's about $1.50-$2 per serving – 4-Tablespoons) and is about 75-145 calories (plus 125 for the whey protein).
Here's what I use now (we call it Bearology instead of Shakeology)…
First is the blender – Kitchen Ninja Express Chop (review) So great – makes anything smooth. I used to use the BELLA 13586 12-Piece Rocket Blender, Stainless Steel and Black.
Ingredients (serving portions below)
Whey Protein – I usually order this from FitRx.com or Amazon: Dymatize Nutrition Elite Natural Whey Protein Isolate, Rich Chocolate, 5-Pounds
SuperGreens – Amazing Grass Berry Green Superfood 100 Serving, 28-Ounce Container– great 'all around' source of nutrients
Maca – Navitas Naturals Maca Powder, 16-Ounce Pouches– energy, balanced levels (no crashing) or order from TheMacateam.com
Hemp (optional) – Navitas Naturals Hemp Protein Powder, 12 Ounce Pouches or Nutiva Organic Hemp Protein Hi Fiber – Omega Fatty acids, fiber, magnesium
Chia – Nutiva Organic Chia Seeds, 12-Ounce Bag– Omega Fatty acids, fiber, protein
Cacao (not cocoa) – Navitas Naturals Cacao Powder, 8-Oz(2) or Healthworks Raw Certified Organic Cacao Powder, 1 lb – Fiber, iron, magnesium
Flax – Flax USA 100% Natural Organic Flax Cold Milled Ground Golden Flax Seed, 40-Ounce Pack– Fiber, Omega-3, protein
PB2 (optional) – PB2 Powdered Peanut Butter – for added protein and flavor
Besides whey protein, these things are items I've added to my diet over time and found them to help regulate my energy, attention, sleep, regularity, etc. best. I even did a 7-day shake-only diet with it.
You can pour them all into a big container (more on servings below) and shake it up. I keep the whey protein separate b/c there's so much – I just keep it in it's tub.
It can easily be a meal replacement for breakfast or your current protein shake like Shakeology. Also like Shakeology, it's delicious and super healthy.
I usually make it with (pasteurized) egg whites, milk, greek yogurt, kefir, cottage cheese or similar and a little bit of fruit. I may add some water if it's thick. If I use a good bit of pasteurized egg whites or some other protein source, I may not use the whey protein.
Servings – 4 Tablespoon scoop
Super Greens – 28 oz, 100 servings (30 calories)

Maca – 16 oz, 90 servings (~20 calories)

Hemp – 12 oz, 11 servings (~10 calories)

Chia – 32 oz, 75 servings (~20 calories)

Cacao – 16 oz, 32 servings (~5 calories)

Flax – 40 oz, 81 servings (~60 calories)
So given they are all in the area of 75-100 servings (75-145 calories depending if you use it all – whey protein adds another ~125 = ~200-270 calories), I just pour them all in one big container. Also, I think 1 bag of cacao is a good amount for this recipe. You may find that's a lot of chia – the seed will be in your teeth all day if you let them. 🙂
Play with the recipe a bit, see what you like and post back here with your variations/additions and/or questions. Thanks!