Project Kratos: Day 7 Workout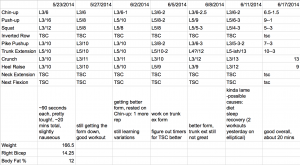 Good workout today – I continue to do better on the form. I may be seeing some improvement, but it's hard to measure. I was almost able to do 7 chin-ups before I had to stop. It took right at 60 seconds so I think my timing is good.
I still feel like I get a great workout: I'm breathing heavy from start to finish and sweating a lot. It's a hard workout.
I'm a strong believer in that diet is 80% and since I'm in pretty good shape, I would only expect to see small improvements from the workout.