P90X3 Power Bands Suggestion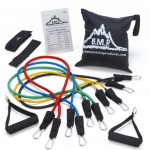 Weights are great. I prefer them, but the bands are a great alternative… especially when traveling or when room is an issue (apartment, etc.).
Here's a set w/ great ratings: Black Mountain Resistance bands.
Be sure you have a place to anchor them. This set comes w/ a door anchor which works well, but always be sure it's secure. One bad experience is all you need from these.
OTHER ITEMS:
Other P90X3 equipment suggestions.
Check out my Homemade Shakeology Substitute here!