P90X3 MMX: Tony Horton's Shoes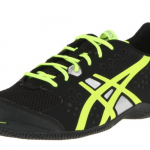 For the MMX workout, Tony again is wearing ASICS Gel Cross-Trainers. This time it's the ASICS Gel-Fortius TR.
They're low profile which I find very comfortable and have a mesh top to help keep your feet cool.
Here's my post on the ASICS Gel-Craze shoes Tony wears in Total Synergistics.
I love the Gel-Craze shoes for the same reason: low-profile, mesh top and SUPER light. I literally wear them instead of slippers now. 🙂
UPDATE: I got a pair of these and I didn't like them. I returned them for another pair of the Gel-Craze and love them!
Images of the shoes from MMX: