Homeschool Road Trip – 3.5 weeks, 17 States – East U.S.
We decided to try to travel a good bit during this year of homeschooling. We planned a big homeschool road trip around the east U.S. states. It was rough, fun, hard, smooth and everything else as you can imagine.
Homeschool Road Trip
Here's our picture gallery and other road trip posts
I don't think you'd want to read about the details of each place we went. At least not as a 'travel post.' It's hard to think of what would be interesting to write or read about a homeschool road trip.
We drove about 4300-4500 miles across 17 states. The map below shows the route (for the most part – the locations below are not exact addresses/locations to protect the innocent and it doesn't even have us going thru WV but we have a pic of the state line in the pic gallery) but not the daily excursions, of course.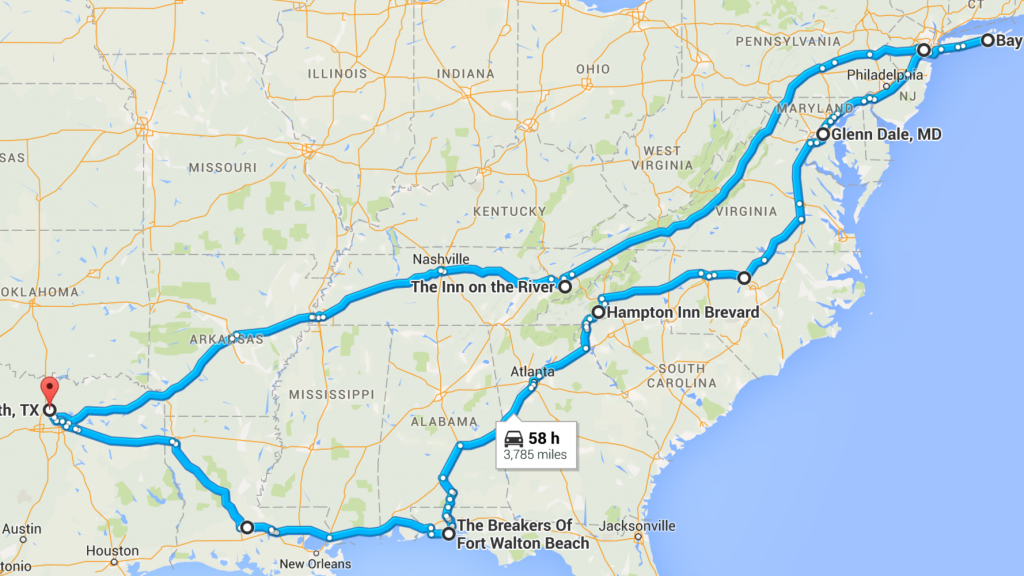 I wrote a bit more of a journal cateloging the road trip details for historical value. I'll put a few things about each place farther below.
I think we learned a few things and came up with some questions during the trip that might be interesting…
Vice Versa 
I reminded myself a lot that we weren't on "vacation" where we homeschool/work. We were doing homeschool/work but with cool locations/views. Homeschool road trip!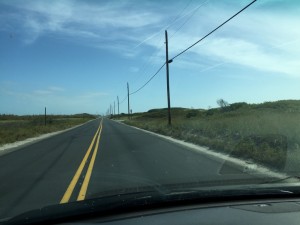 Driving
We had multiple whole days of driving which went fine for the most part. However, on those days we couldn't homeschool/work (or at least not much). Ideally, it would be nice to have fewer drive days and stay places longer. Maybe one drive day, stay a week, a drive day, stay a week, etc.
Long Vs Short
Along with the driving aspect above, there's always the question of would it be better to go on a multi-week trip where half of each day is homeschool/work or would it be better to go on a trip half the length and just be off?
Home is…
Some say it's "where the heart is" or "where you hang your hat." Not sure. But I think on this homeschool road trip I am more and more at ease wherever I am. I don't need to sleep in my bed or have my things much. I brought my guitar and work stuff… I don't do too much else as far as having "my stuff."
However, I do thrive a good bit on routine and regime. I like to "do my things": workout, Bible time, etc. It doesn't completely need to be the same in each place, but I want to know what it will be.
The kids did great. It overall went very well. Probably better in many ways than we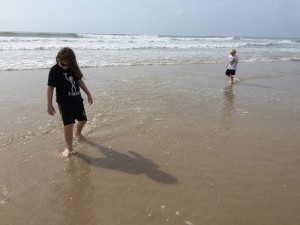 expected.
However it was hard too. Many days the boys didn't want to do homeschool. We didn't always either (though it helped w/ my "routine").
Food is bit of an item. Mo loves to cook and she's great at it. But when we travel we have very little to work with. Eating out with two kids is work too and expensive so that's not always a go-to solution. And we're going to be packing up in a few days which means don't get too much stuff that needs chilling.
Planning
Going on a road trip to a variety of places with different things to do and weather made packing a bit interesting. Not too amazing, but we split some things up so that we wouldn't be taking beach stuff into hotels in the mountains.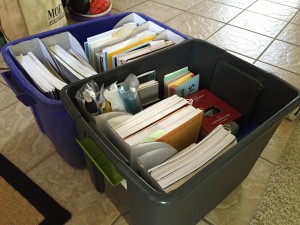 We got plastic bins for the homeschool materials so we could take them wherever we were going to school.
I'd love to say all the organization and brilliant things we did leading up to this set us up for success. However, I think it was more that our boys are awesome and our God is great (and listened to the various prayers for us).
Not Planning
Actually in many ways we didn't plan too much. That was a conscious decision actually. If we had planned out too much of it by researching it, there would also be a lot of disappointment. Between driving days/time, homeschool and work, it wasn't like we had a ton of time to do things. If we came up with 10 things to do and only had time for 3, that could be tough.
Also, I think by not planning, we were more realistically able to take this trip. The amount of planning we normally would have done for a 24-day homeschool road trip would have taken away from a lot of other things we needed to. We might have been discouraged from even taking it.
The Places…
Pigeon Forge, TN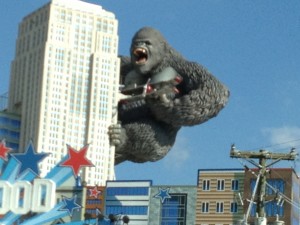 It's like Vegas in the mountains… without gambling. There's a great Titanic museum and plenty of similar attractions like the wax museum with a King Kong (and my son pointed out you can see his buns from behind).
We homeschooled in the lobby and the hotel room.
We drove through Staten Island, Brooklyn and Queens to get there. It's about 2 hours outside of Manhattan. Any direction for two hours from Manhattan is mostly the same: country. But out on Long Island there's the Hamptons (quaint towns), vineyards, orchards and beaches.
It reminded us of Mandevill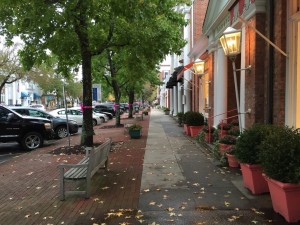 e and other places so to us it wasn't spectacular. However, if you lived in NYC and could get to this in a couple hours… paradise. Ponquogue Beach was nice.
The first couple of days had nice weather so we took off. The rest of the week mostly rained so we homeschooled/worked. It's a nice area.
We stayed w/ a high school friend of mine which was awesome. We were only there for one full day. He took off work and we went to D.C. We went to the Air and Space museum and the Natural History museum. Both were great.
We ate at the American Indian Museum and then just drove around a bit – over the Virginia bridge and around the Lincoln Memorial, the Washington monument. We also passed by the FDR and Jefferson memorials.
There's a ton to see – way more than one day, but that's what we had. Is it better to wait till you can go longer (and possibly never go) or do what you can?
No homeschool/work.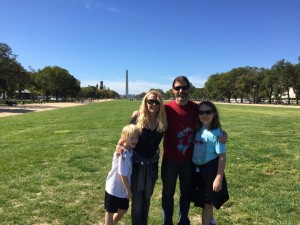 We were going to stay in Asheville, NC but it was pretty booked up for the foliage change. We stayed in nearby Brevard and I think I might have liked it more. We went through Asheville on the way in and ate. It was a bit bigger than I expected.
Brevard was smaller which was nice. We saw The Biltmore which was pretty amazing. We ate at Rocy's in Brevard which was good. We also saw a Brevard White Squirrel which is kinda their mascot.
We homeschooled/worked one day.
We ended with our annual beach trip with amazing weather. We homeschooled/worked those days and then hit the beach. Usually I'd work while they were at the beach but I took some time off too.
The 12.5-hour drive home felt somewhat short. I think each of us was a bit mixed on being ready to be home. I think I was the least ready. I think I struggled a bit more early on the trip w/ relaxing and was finally settling into our homeschool road trip.
We're all glad we did it and as with most adventures, that's easier to say at the end. I think there were a couple times early on when we considered somehow ending it early or changing plans or something.
Different Next Time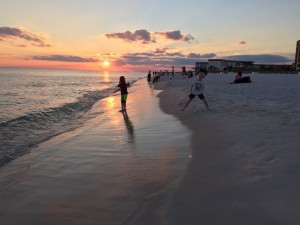 If we do another homeschool road trip, I think we'll do some things differently. As I mentioned, we might consider having fewer drive days. And/or we might consider either taking a week off in there or maybe just homeschool/work a few days a week.
The amount of homeschool/work can somewhat depend on the type of place you go. If there's a lot of things you want to do in a place, you probably don't have time to do much else. However, for a place like the beach where you somewhat do a lot of the same time, homeschool/work might work out. In the end, I'm saying the type of place should be taken into consideration and vary accordingly.
We may do something towards the west in the Spring. Maybe a homeschool road trip in the West. The options are kinda weird. We could get to the Grand Canyon in a (long) day of driving. However, I'm not sure how long we'd want to stay there. If we kept going west from there, we're getting pretty far away and would have to drive back eventually. And if we were doing the one-day-drive-one-week-stay, it's hard to get out and back again unless you make a square-ish shape out if it.
Anyway, who knows what we'll do. Maybe fly somewhere, stay for 2 weeks in one or two places and just not homeschool/work much???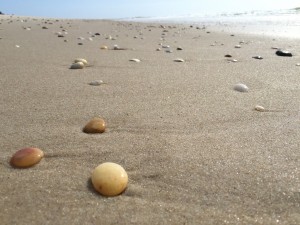 Life
As with just about everything else these days, the homeschool road trip made me think about priorities, goals, life, etc. If I keep doing the same things I'm doing now for another ten years, will I be happy/proud of how I spent that percentage of my life?
While running in the Hamptons, driving through Smoky Mountains, walking on the beach in Florida and other places, I came up with my main areas of life. I used some techniques I've learned to think about what I want to do in those areas.
In some areas the answer is yes. I want to keep on doing the same things in those areas. Homeschool, time in the Bible, working out… I want to keep doing it. Some things I want to be more formal about or intentional about what it's working towards.
I may post more about that later once I work through them a bit more.
Other areas/items of interest: