Rotten Wood on Door Fix – What You Need and How To
We had some rotten wood on our backdoor. I replace the threshold and needed to fix the rotten wood. Here's how…
I used some J-B Wood Restore Hardener to seal the wood after I got out the rot. And then epoxy putty to fill it in. I used chisels (those aren't the ones I bought, but they're probably better than the ones I bought) to clean out the rotten wood.
Rotten Wood Door Fix
Here's the crew…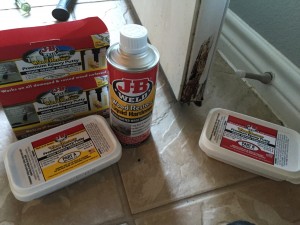 I used a chiseled out the rotten wood. There was only about an inch or so of wood and then I got to styrofoam.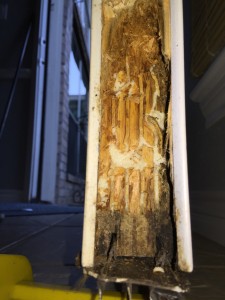 Most of what you see there is styrofoam. The top and some on the sides is the wood. It took a while to chisel out being careful not to hurt the side of the door (metal) or ripe out the styrofoam. All while not being able to see well, my knees killing me and just being a weird angle. Enjoy!
I got it a bit cleaner than that – I guess I didn't take a pic. Near the end, I was just ready to be done. Long day.
The putty is interesting. There's 2 tubs. You get equal parts of light and dark and work them over together until they are a uniform color in the middle. Such a picture of life, right?
It comes w/ plastic gloves that are a pain but I was trying to follow the rules… like life.
I just smashed it in the hole and tried to form it as best as I could. My first try was about half what I needed. I shoved it to the top and try to get it as much/far in there as I could to fill in the cracks.
I did another round of mixing the putty and go the amount just about perfect!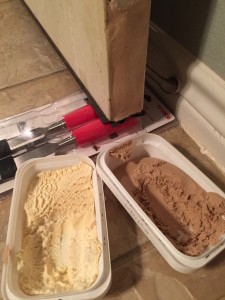 The putty is like play-dough and works together easy and doesn't harden too fast. It comes w/ a scraper too, but I didn't use it.