Pioneer Woman Cheese Grater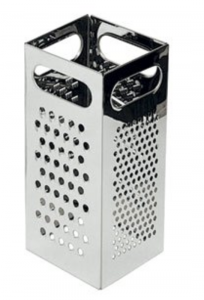 Pioneer Woman Cheese Grater
For some reason I love to grate cheese. I think it's partially b/c it was one job my mom had/let me do as a kid that made me feel grown-up. Also, I LOVE cheese so it means good things are coming!
My wife has made me a fan of the Pioneer Woman and I'm always on the lookout for better kitchen tools.
Pioneer Woman claims "this perfectly rectangular, four-sided grater is my very best friend" it has that going for it.
It has good reviews on Amazon and is pretty cheap.
From Amazon…
This quality stainless steel grater is must a have food prep tool. This commercial quality grater 4-Inches long to grate large quantities of vegetables, cheeses and other foods compared to other manual graters. Each side features a different grating surface to serve a different purpose and also features a easy-grip handle for sturdy use.
DIMENSIONS:
Length – 8¾ Inches
Width – 4 Inches