Pioneer Woman Slotted Spatula/Turner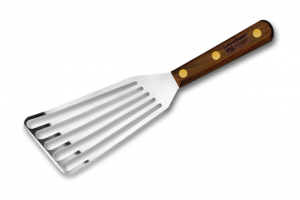 Pioneer Woman Slotted Spatula
I love burgers. Actually, I love to eat burgers. The ones I make are called Beargers… see what I did there w/ my name?
But flipping burgers on a grill can be frustrating w/o the right tool. Use the right tool!
Pioneer Woman suggests this slotted spatula/turner and says…
The quality is great, the handle is comfy…but it's the ultra-sharp edge that I love. You can scrape along the pan and scoop up anything.
From the Amazon description…
This is a durable, commercial-grade tool, made of high-carbon stainless steel that runs right through the handle. The flexible 3-by-6-1/4-inch head features wide slots to drain off liquids as it handles vegetables, scrambled eggs, and other foods. Three nickel-silver rivets secure the durable synthetic handle. The turner is 11 inches long overall, is dishwasher-safe, and carries a lifetime warranty against defects. –Fred Brack
The LamsonSharp™ Kitchen Tools feature hardened and tempered high-carbon stainless steel blades that are tapered or fine beveled, heat and water resistant rugged POM handles secured with nickel silver rivets, and are dishwasher safe. They all come with a lifetime warranty, are dishwasher safe, and made in the USA.