P90X3 – The Challenge Review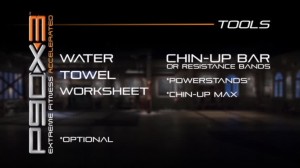 Brutal. So good. You basically do 1 pull-up set, 1 pushup set, repeat (total 4 sets) and then move on to a different style pull-up and pushup for 2 sets each. A total of 4 times for 16 sets total and then a burnout set of 1 pull-up and 3 pushups (both your choice).
You set a goal number for each to use for the entire workout. I chose 12 pull-ups and 20 pushups. I hit those numbers each time, but had to modify to make it (chair for pull-ups and knees for pushups).  So that's 192 pull-ups and 240 pushups not counting the burnout which was 9 more pull-ups and 27 pushups (9 sets of the 1-3).
Great workout, but like the other P90X3 workouts, by setting your numbers it's as hard (or easy) as you want.
NOTE: One thing I've noticed for each DVD is that the intro warnings and such are mandatory (you can't skip/ff thru them). So I try to put in the DVD a few mins before I workout. I put it in and then get water, put on my shoes, etc. Hopefully the next time I use one it will remember where I was and skip those???