Only Believe: Jesus Heals the Daughter of Jairus – Synagogue Official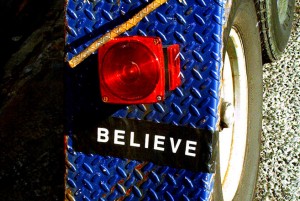 In Mark 5, a synagogue official named Jairus asks Jesus to heal his daughter.
On the way, a messenger comes and tells Jairus his daughter has died and there's no need for Jesus to come. Jesus hears this and says…
36 But Jesus, overhearing what was being spoken, said to the synagogue official, "Do not be afraid any longer, only believe."
Jesus seems to know exactly how Jairus would feel at that time. I love how Jesus reacts proactively – He knows Jairus is sad and has lost hope and speaks.
The day I read that I was struggling with some things with work. It really spoke to me. My concern was very small which in comparison seems silly. However, it also means it should be much easier to give it God.
Many, many times the Bible says to not fear and don't worry. I still do. In reading the above, it was very comforting to know who ultimately has things in control.
He doesn't say "Don't worry – just work harder" or "Fear not – do more." He says believe. He actually says "only believe." It's not "I know you're afraid, but believe too." He rules out the fear – only believe.
Also, He doesn't say "just believe and your daughter will live." The synagogue official doesn't really know what's going to happen.
The work stuff I stressed about worked out. It actually was quite cool. It wasn't that it "just starting working" but close. Things I had no idea how to tackle one day seemed very clear the next.
But bigger than that, my perspective was to trust Him in it. The bigger picture is that He is in control and I can believe. Only believe.