Numbers 22-23 – God Questions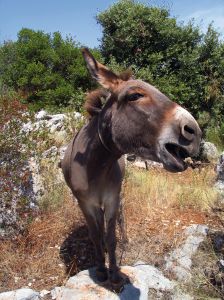 Israel camps in Moab (across from Jericho). What do you think Moses is thinking being back in Moab?
Balak, king of Moab, sends for Balaam to curse the Israelites. Who was Balaam? Apparently a fairly well-known prophet. He talks to and hears God so… he must be a prophet. Weird. Kinda like Melchizedek.
Balak sends men and money to get Balaam to come. Balaam sd have said "No way I'm cursing God's people." But instead he asks God. He may have been thinking "Maybe there's a chance I can go somehow and make some money." Maybe I sdn't be questioning his motives???
God asks "Who are these men with you?" God knew who they were – so why ask? Maybe he's trying to tell Balaam something. Something like "Look who's asking you." or "These guys are against my people and you're asking if you sd help them???"
It's like "Who do you think you are?" – it's rhetorical.
But Balaam answers like God doesn't know. And God answers Him as Balaam clearly isn't getting it "Don't go w/ them."
Anyway, after the second time, God says to go, but He's angry and puts an angel in the way. Balaam doesn't see what's keeping him from going and he gets mad. We do the same thing – we don't understand why things aren't going how we want so we get mad. Maybe it's for the best.
Balaam eventually gets there and blesses the people instead of curses them. We cd learn from Balak's mistake too.