Coffee, Cowboys and Indians – Denton
So I'm trying to add more images of my "everyday" life to the blog. Pictures say a thousand words and are easier to read.
Yesterday, I worked for a bit at Shift Coffee in Denton. It was open for a while around the corner from where it is now. Then the building owner decided to demolish and rebuild. Shift was able to hold out for some months and be part of the rebuild. Now open!
Angelo, the owner, is a great guy and serves great coffee. If you're around Denton, check it out.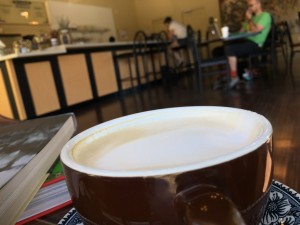 I worked there for a while and then had my favorite lunch in Denton: Denton County Independent Hamburger Company (link).
I worked from a friends house for the afternoon and then watched the Redskins @ Cowboys game. It was a good game – pretty exciting and close. It went into overtime and the Redskins won!
Growing up, my brother was a Cowboys fan which is why I believe I became a Redskins fan. It's hard to say. I love the Saints the most though. Who dat!
Frenchy, a bit of a local celebrity/character in Denton, is typically at the games and gets a shot on TV…
There's a bit of controversy about a city ordinance they are suddenly trying to enforce on him.
Frenchy served and fought for our county and is unquestionably patriotic. He has a lot of flags on his property and vans and the city is trying to change that.
I understand that there needs to be a limit – you don't want your neighbor to put up 200 flags or something. But my wife put it best saying something like "Anyone that fights for our country gets an exception." I couldn't agree more.