Cloudy with a Chance of Meatballs 2 (2013) – 3.5/5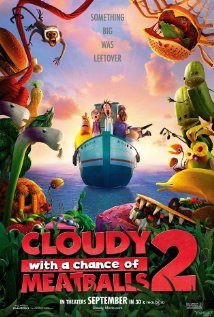 Cloudy with a Chance of Meatballs 2 (2013) via Cloudy with a Chance of Meatballs 2 (2013)

I really liked this as I liked the first one. Not sure which I liked more, but since this one is fresh, I'm thinking this one.
It's cute, clever, funny, witty and clean.
It promotes family, science, friendship, teamwork and more. The "villain" is a Steve Jobs-like guru type character that is power hungry wanting to make his food bar better and better at any cost. Version 8 has to be the best yet no matter what!