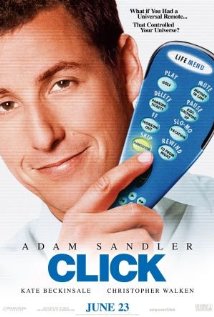 Click (2006) – IMDb. I really like this movie a lot. I love the idea of getting to live your life and then go back – kinda like time travel.
I'm intrigued w/ the concept of "what will I think of my life at the end?"
SPOILERS
Michael Newman is always living in and for tomorrow. He sacrifices what he has for what he might have later.
He gets a 'magic' remote that can skip things and while he skips the 'bad' parts, he misses everything meaningful in life.