Calorie App – Tells you How much to Run
This calorie app, How much to run?, lets you search for food and, based on the calories, how much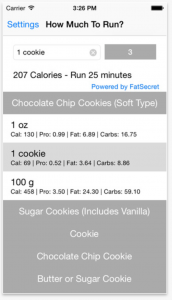 you'd have to run to burn it off.
So much of the time, people don't understand what calories really are. Is 10 a lot? Is 100 calories a lot? What is? What does it mean?
If you knew that this snack was the equivalent of a 30 minute run would you still eat it? If you ran 30 minutes this morning, would you drink that soft drink if it would negate your run?
Calorie App
This calorie app will let you enter your gender, age, weight and running heart rate to give you a more accurate reading of your calories burned while running.
The food search of this calorie app is powered by Fat Secret and is extensive. You can search for all types of food and even some brand names or snack foods and more.
It's not the overall key to health, but it's a great resource for letting you understand the cost of various foods as far as calories go.
Weight Loss
There are lots of calorie apps that help with weight loss. Calories is a good 'bottom line' thing to focus on. Nutrition, exercise, water – they're all part of it. But calories can't be neglected.
This calorie app helps you understand the cost of what you eat in a 'real world' for that everyone can understand: running.
When you get a handle on calories, you'll be set to move into fat, carbs, protein and more. This calorie app will help you get your start on understanding what it takes to eat right.
Educating yourself on food/nutrition is the best way to start making wise decisions on your diet. This calorie app is a great way to get started educating yourself.