Best Prayer App – iOS Prayer Request Journal, List, Schedule

I use apps for a lot of things and I thought it was a great way to maintain my prayer journal. Pray4Today (free version w/ upgrade option) is the best prayer app I've found. It lets me title a prayer request, dates my notes and lets me set the frequency (daily, days of the week, days of the month).
Best Prayer App
Then each time I run the app, it lists the items I've scheduled to pray for daily, on that day of the week or that day of the month.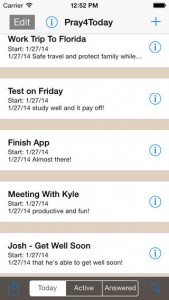 Also, I can set a contact for a given prayer request (paid upgrade) which lets me quickly call or write a given person to encourage or ask for updates.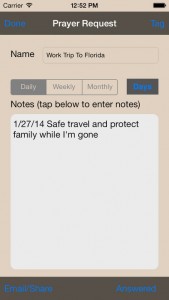 There's other features like tagging prayer requests, searching, viewing answered items and sharing prayer requests (via email to others with the app).
Free Online Backup
Pray4Today also has a free online backup. It automatically checks to see if your app has the latest version of the data each time it runs. So if you use the same account across multiple devices (or share an account w/ others), it will sync it.
And when you make changes, it will upload them to the server.
Here's some other reviews of Pray4Today:
Macdaily.co – "if you appreciate tracking answered prayers and a simple way to enter your prayer request then maybe you will prefer pray4today"
ChurckMag – "I'm loving it already, and I can easily see it becoming one of my "must have" apps."
AppPicker – "I think Pray4today is one of the best prayer apps available on the App Store"
Those reviews have a lot more to say and they do it as well as can be done. Check it out!
For the above reasons, I believe Pray4Today is the best prayer app.