Adjustable Dumbbells Weights – P90X – Why to Buy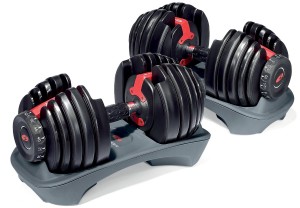 I didn't buy adjustable dumbbells when I did P90X and I still regret it. Now I have a mix-match set of dumbbells without some weights that no one would buy from me and spent about the same. Learn from my mistake: get some adjustable dumbbells.
If you want weights from 5-50 lbs (which I'd recommend), you're typically going to spend about $1 per pound – $275. Maybe less on sale or used.
Adjustable Dumbbells
For about the same (at the time of this posting), you can get the PowerBlock 50 adjustable dumbbells (5-50 lbs) or the Bowflex SelectTech 552 (5-52.5).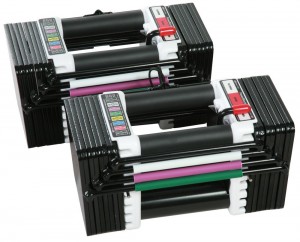 PowerBlock Summary
PowerBlock has other options for different weight ranges: 3-24, 5-70 and 5-90.  They're kind of bulky (which all adjustable dumbbells are) and a bit more cumbersome to adjust. But also they're expandable if you want to add more weight later. There's also a PowerBlock Stand.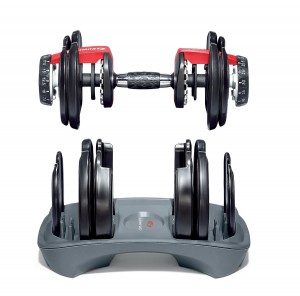 SelectTech Summary
Bowflex SelectTech is a more well-known name brand, adjust more easily but are also big for smaller weights. But they aren't expandable. They also SelectTech Stand.
Recommendation
If you can find these adjustable dumbbells for about the same price, I'd get the SelectTech. If you need more weight, go w/ the PowerBlock or just buy some larger separate weights (or just do more reps!).
Anybody want to buy a random set of free-weights?