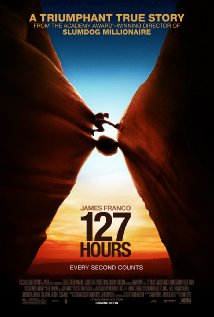 127 Hours (2010) via 127 Hours (2010) – IMDb.
I wasn't a big fan of the style of it, but it was very intense and somewhat disturbing.
I was a bit slow thru the middle – that's kinda necessary in a sense, but it seemed to drag.
Movies similar to this like Cast Away pull it off better IMO.
SPOILERS
The story tries to be wrapped around him coming to terms w/ being selfish and self-centered, but I don't know that they pull it off.
Maybe him cutting his arm off is a way of saying he wasn't to be a part of things w/ others??? Or maybe it's just another case of him getting it done on his own.