My current junk could be your future junk… make offer… any offer. I might even deliver.
Own a piece of history with the one-of-a-kind, 3D, Denton Square Donuts, life-size sign puzzle. No explanation necessary.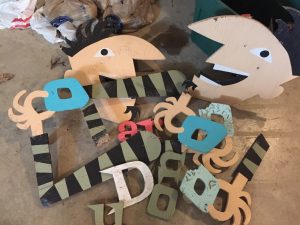 And with all those imaginary donuts you're going to eat, you should also pretend you're going to exercise. I have the perfect thing… exercise bench. Not a WEIGHT bench, that went out with cassette tapes and haircuts.
This thing is just for exercise. It folds up so when you're not using it ever, you can store it in a place where it won't mock you. It folds up so skinny… well, let's not compare.
After all that exercise, you probably need a rest. Check out this giant foam thing. It's good for sitting, laying but it's mostly used for jumping and falling on by boys of all ages.
[Dragon not included. Lego figure added for scale]
Or maybe you need a nap… what's better for a nap than a futon (answer at the bottom).
Here's one!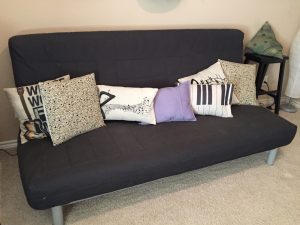 (Pillows not included. Don't even ask.)
The cover comes off easy for washing. And you'll need that. Once you have a futon, you go full-college mode. Mud ball in the rain,… that's all I got. College is a blur. Many moons ago.
I had a deal to sell this to some Nairobian prince. I gave him my bank info and everything but never heard back. His loss. Sucker!
Speaking of college. You wanna more smart? You need a 'puter. This isn't just a computer – it's a "home computer." It even comes with books and a tape recording for saving your precious datas. Be like the hipsters and bring back things that we left behind for good reason.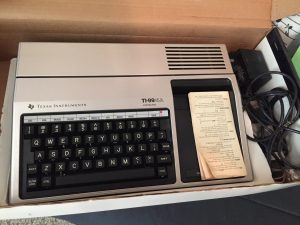 This was the first computer I ever got. Own this and when I'm famous you can say "He's famous? For what? Oh, how long is his sentence?" But it comes with books to read about how it used to work. Bonus!
Actually, this isn't the exact one, but it's the same model. I got it b/c… man, I don't remember. I think I was nostalgic one day when eBay was hot and I found one. I guess I thought… no idea. So here I am selling it to someone else that hopefully just discovered the internet. Someone about my old.
On the other hand, this is the actual second computer I ever got. PCjr. It comes with 2 keyboards! One is wireless. Future! It also comes w/ a game controller with TWO buttons! Twice as many as one!
The connections for this to the TV are old school. If you have a TV w/ the right connections, I'm sorry. That's rough.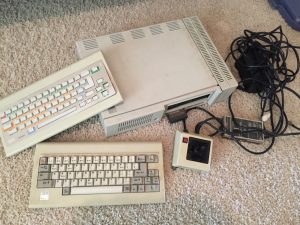 If the digital thing isn't for you, sorry, it's everywhere. You just have no luck today. But I do have a tent. It claims to be a two-man tent, but don't you believe it. That's sexist and insulting. Even the ladies can use this tent. But I wouldn't recommend they be WNBA players or anything – it's not huge.
Or it could be a man and a lady – a special weekend in nature for you and your spouse. Romance, sleeping on the ground, hot dogs, mosquitos… camping! Nothing like camping to make you wish you were in the house you're paying for.
It's a gift that makes you appreciate what you have… while laying on a rock stuck in the middle of your back and catching a branch in the face when you go to pee. And s'mores.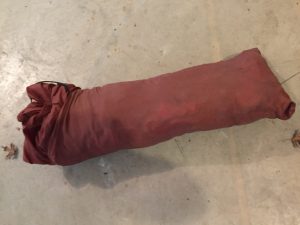 If none of that interests you, there's also an aquarium. From the Latin for: "used a bit, gets dirty and you get rid of."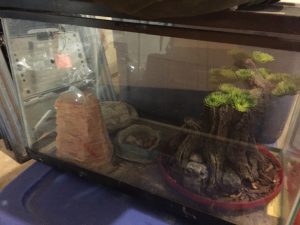 Make offers or this junk gets donated. I'm serious. Gimme money or they get it! You'll never see them again… well, you will b/c I know you're wise and frugal and shop them joints like me.
And we have a trampoline frame and springs but not the thing you jump on. Philosophical question: If there's no jump canvas, is it a trampoline?
NOTE: This is NOT the trampoline but it is A trampoline. Ours is a disassembled frame and the springs are in a bucket. Bucket comes w/ it if you want. The bucket is the best part!
But I wanted to at least put a pic of a trampoline in there for those of you who have never broken a bone.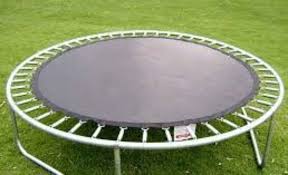 Answer: A bed, hammock, water lounge chair, recliner, foam thing.